Florence Weddings: villas or castles? A selection of stylish venues.
Simply put, getting married in Florence (Tuscany) is a unique Italy's experience. There is something exceptional about this Italian hub of culture full of beautiful venues.
With so much history, it is the perfect destination to bring your loved ones together to build your own memories.
What better way to experience the magic of Florence than by planning your day with a team of experts that will feel more like a part of your family than a company?
Weddings in Florence: luxury VENUES
Florence is the capital of the Tuscany region in Italy. It is largely recognized as a hub for iconic Italian architecture, sculpture, painting and more.
Leonardo da Vinci's 'Annunciation' and Botticelli's 'The Birth of Venus' are housed in Florence as well as Michelangelo's famous 'David' sculpture. In the centre of the city, the Duomo Cathedral and Giotto's bell tower dominate the landscape.
Another iconic landmark is the Ponte Vecchio bridge. The medieval stone bridge is unique because it is also lined with colourful shops, selling mostly jewellery. It is a unique landmark and therefore a favourite attraction for many tourists.
Florence is what many people picture when they think of Italy. With terracotta roofs as far a the eye can see, meandering cobblestone streets and rolling hills surrounding the city, it is no wonder so many flocks to the city.
If you want to spend the most important day of your life wrapped in Italian heritage and embracing the history and culture of Italy, Florence is your ideal venue location.
Design Anarchy will make sure every detail is in line with your idea for a picture-perfect Florence wedding.
Florence wedding planners
Design Anarchy is not just another Italian destination wedding company; it is the ultimate experience in wedding design and production.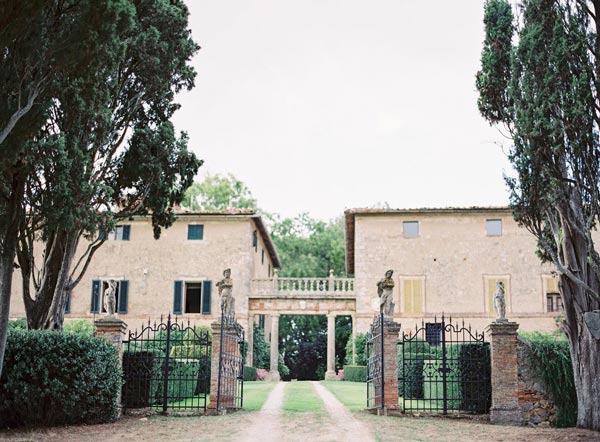 We want you to understand that our way of doing things is a little unconventional. You may love our process, you may hate it. But what you will get out of our process is an event that is completely unique, completely bold and completely YOU.
Other wedding "planners" have generic concepts, venues and decor that they stick to with every wedding they host. Not at Design Anarchy.
We have scanned the globe, from Indonesia to London, from Amsterdam to Ibiza to find the most beautiful venues, the most stylish decor and the most exciting traditions just for you.
If you are:
A multicultural couple
Frequent travellers yourselves
Inspired by the idea of a destination wedding
Ready to surprise and delight your guests
Or any combination of the above, you are ready for a Design Anarchy event.
Getting married in Tuscany
The Design Anarchy process is unique because it is flexible. Because many of our clients are coming from abroad, we carefully plan and organize to ensure your vision is aligned with ours, each step of the way. We can help you plan your perfect wedding in Florence.
When you get in contact with our team, you will be asked to fill out a questionnaire. This is our first step in learning everything we can about you, your partner and what you both want to emulate at your wedding.
Once your questionnaire is complete, we will schedule a Skype call from wherever you are to make sure that we are a good match for you and to get the process rolling further forward.
From there, the choice is yours. Be as uninvolved or as involved as you want. Give us a detailed list of demands or let our imaginations take over. The possibilities are endless so this is where the real fun begins.
We don't just 'plan' your wedding, we orchestrate every detail, coming at the event from 360 degrees and imagining the whole piece both as a whole and individually.
Our team members are often referred to as stylist and producers because that's exactly what they do.
We cover any elements required to bring your luxury wedding experience to life, including but not limited to:
Venue scouting
Event design
Entertainment
Catering
Activities
Transfers
Accommodation
Supervision
At Design Anarchy, how our team works with you is the most important thing. We want you to feel respected and understood, never stressed. We work tirelessly so you don't have to, getting to know you and your family as well as you know each other so we can help craft the weekend that best screams YOU.
No detail is overlooked and no team member is less important than the next, just as each guest is similarly important to you.
We want you to be honest with us, to trust us and to feel confident in our process. We might surprise you, but it will be the best surprise, a good kind of surprise. We promise.
How do you envision your Tuscan wedding?
How do you picture your wedding day looking?
Whatever you envision as your perfect weekend, let us know and we can make it happen. No request is too big and no detail is too small for us to handle.
Picture these sample settings, to get your imagination going:
Rustic tables arranged neatly in a green pasture, minimally decorated with natural hues and gentle candle-light
Towering stacks of flowers pouring out of barrels and baskets and hands of the wedding party, wafting into the air as it blows
A raw bar with fresh seafood plucked right from the ocean that day, reminding you constantly of the vast Mediterranean that fans out on all sides
Bold, bright, vibrant colours everywhere. Who said you have to choose a strict colour scheme?
A backdrop of a historic architectural landmark lit up by spotlight and dominating the horizon
Chandeliers, dripping in glistening crystal and hanging from limbs of trees
Cleverly placed, silky, almost transparent fabrics hanging from above and from the sides, creating barriers that invite more exploration more than divide
A table full of masks, for guests to experiment with
Vintage dining settings on a centuries-old table, in a refurbished wine cellar or beneath high, cathedral-style ceilings
Fresh grapes, silken buffalo mozzarella and melt-in-your-mouth prosciutto that makes Italy famous
Brilliant stallions with flower crowns and braided tails and manes
A bright, white-capped blue sea that stretches out in front of and below you from your perch high on the cliffs, inviting a post-vow dip
All of these ideas are not just that but have been a reality for other Design Anarchy customers. These are just some ideas to get you started; we challenge you to dream up something even grander that we can't make happen for you.
Dream big, dream BOLD and dream differently.
Whether you've always dreamed of Florence weddings, Capri weddings or Italian weddings are a new idea for you, Design Anarchy will turn it into something spectacular with absolutely no stress to you. Trust us; our 10+ years of happy customers have shown us we know what we're doing.
Contact Design Anarchy to get started on a questionnaire, set up a Skype consultation, and begin your journey to an amazing wedding celebration.